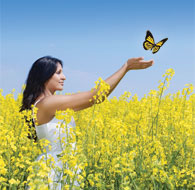 The Power of Hypnosis
Did you know that your true identity is magnificent? Do you know that there is nothing your heart and mind cannot achieve? The fact is, the blueprint of the peace and fulfillment you seek is already within you; you were born with it; for there's nothing in you that is missing, incomplete, not enough or insufficient.
So what happened? What short circuited your inner connectedness with yourself, with life? Negative emotions and limiting beliefs are formed around various experiences and memories which can keep you from moving forward. Instead of living in the present, you respond to life through your old experiences (old lenses) and feelings, and you wonder why you may keep repeating the same old drama and can never break free.
Are you ready to make positive changes in your life?
Hypnosis can help you tap into and release the inner road blocks to your happiness and success. Did you know that your sub-conscious mind has one primary purpose and that is to keep you safe, to protect you physically, mentally and emotionally? The good news is hypnosis speaks to your sub-conscious mind, the part of your mind that controls habits and beliefs, as well as memories. Your subconscious mind wants to release anything that is no longer beneficial to you and hypnosis is a powerful tool for just that.
Feel free to explore our website and call or email with any questions you may have. We offer a free phone consultation to help you decide if hypnosis is right for you.
Remember: "Thoughts Create Reality…Create the Life You Love!"