Lindemann Hypnosis Newsletter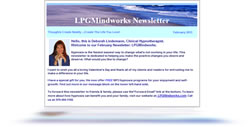 Live an Inspired Life
Nurture Yourself
Liberate Your Mind
Enrich And Expand Your Reality
Don't miss out on a single issue! Share it with your friends and family. Subscribe for free.
"I love your newsletters, please continue to send them, I would greatly appreciate it. I also appreciate the wonderful work you do. Again, Thank You !!!!"

Sincerely, Denise Ward
Powerful Tips & Articles To Help You…
Lose Weight
Stop Smoking and Stay Quit
Release Negative Emotions and Stress
Accelerate Health and Energy
Create Greater Prosperity
Enjoy Healthier Relationships
Tap Into Your Creative Source
Feel More Self Confident
Rid Yourself of Bad Habits
Sleep Better
Learn More About Your Mind/Body Connection
Discover The Power of Hypnosis
The LPGMindWorks Newsletter is a free monthly newsletter that gives you cutting edge techniques, information and articles to help you empower your life and accelerate your dreams.
Newsletter Archives
We only archive the current year's newsletter. We hope you enjoy them.
August 2016
Stop Fear & Anxiety 2 Minute Solution
May 2016
Break Free From Your Emotional Prison, Have You Heard About This Anti-Aging Breakthrough?
April 2016
When Life Falls Apart – 8 Things You Need to Know, Lose Weight with Hypnosis Harness the Power of Your Mind, Have You Heard About This Anti-Aging Breakthrough?
March 2016
3 Startling Facts About Your Memory - Why We Remember Specific Events, Have You Heard About This Anti-Aging Breakthrough?
February 2016
Your Core Values and What You Really Want, The Exciting ASEA Breakthrough!
January 2016
Wipe Away Year-End Blues, 12 Amazing Brain Facts, Have You Heard About This Anti-Aging Breakthrough?
December 2015
The Value of Kindness & Compassion, How Meditation Literally Rebuilds Your Brain
Fall 2015
Can a Simple Hand Trick Improve Your Memory? Do You Have Burned Out Adrenals? Take The Test
Summer 2015
How Stressed Are You? 23 Signs, Does Nostalgia Have a Healing Affect? Healing Your Life With Past Life Therapy
May 2015
TimeLine Therapy - What's Holding You Back?, Rethinking Cholesterol vs. Saturated Fat, "You're How Old?"
April 2015
Why Gardening Makes You Happy, Do You Feel Un-Grounded? Unblocking Your Foot Chakras, Benefits of Epsom Salt, You're How Old? You Can Grow Younger!
March 2015
How Your Outlook Can Cause Dementia & Alzheimer's, How to Spiritually Cleanse Yourself & Your Home
February 2015
7 Ways Chronic Dieting Affects You, How To Dialogue With Your Body & Lose Weight
January 2015
Stop Dieting & Lose Weight - 11 Signs of Diet Backlash, The Benefits of Mindfulness,